Alhóndiga Bilbao
+ info
AUDITORIUM
Location: Floor -1.
Description of the space: Ample, modern yet inviting space. The highlight is its Baroque framework and designer seats. The stage is Is 8 m. deep by 13 m wide. The stage is set in a two-tiered space at a height of about 5 m. It has 17 rows. In the first and last there are 16 seats + 4 spaces for wheelchairs. The remaining rows have 24 seats.
Type of use: Conferences, congresses, shareholder meetings, screenings, concerts, dance, theatre.
Capacity: 392 seats, plus 8 spaces reserved for wheelchairs.
Surface:1045 m2.
Height: from 3 to 6 m.
Services: The Auditorium has 3 simultaneous translation booths, a cloakroom, toilets, 2 individual dressing rooms, 2 group dressing rooms, lifts etc. There is an induction system that allows people who use hearing aids (with a «T» position) to listen directly to the information transmitted over loudspeakers, microphone, etc. AlhóndigaBilbao also facilitates contact with specialist suppliers in the service of sign language interpreters.
FOYER
Location: Floor -1.
Description of the space: This space with smart and simple lines makes up the lobby of the Auditorium. Its magnificent walls surround this open and dynamic welcoming area.
Type of use: The Foyer accompanies the Auditorium events complying with receptions functions of attendees, information panel exhibition , coffee breaks, cocktails, accreditation, etc. The Foyer can be hired independently from the Auditorium.
Capacity: 200.
Surface: 375,85 m2.
Height: 2,70 m.
AlhondigaBilbao houses, in one of the most representative buildings of the city, a cultural and entertainment center with a wide range for all the people visiting space. A meeting place to share, learn and enjoy individually, in groups or families of different cultural events, entertainment and sports for all ages.
The 43,000 square meters of AlhondigaBilbao rise in old wine store in town. A Modernist building was declared "of cultural interest" by the Basque Government in 1999, in which past, present and future merge. The facades of the space and designed by architect Ricardo Bastida in the early twentieth century, have been maintained and restored. The exterior classicism contrasts with the urban, unique, innovative and modest interior space designed by Philippe Starck, and the life and energy of Bilbao crystallize.
International Observatory of Theatres & liquidMaps loves:
AlóndigaBilbao, Bilbao (Visitas guiadas) by AlhóndigaBilbao
Original Music by Williamson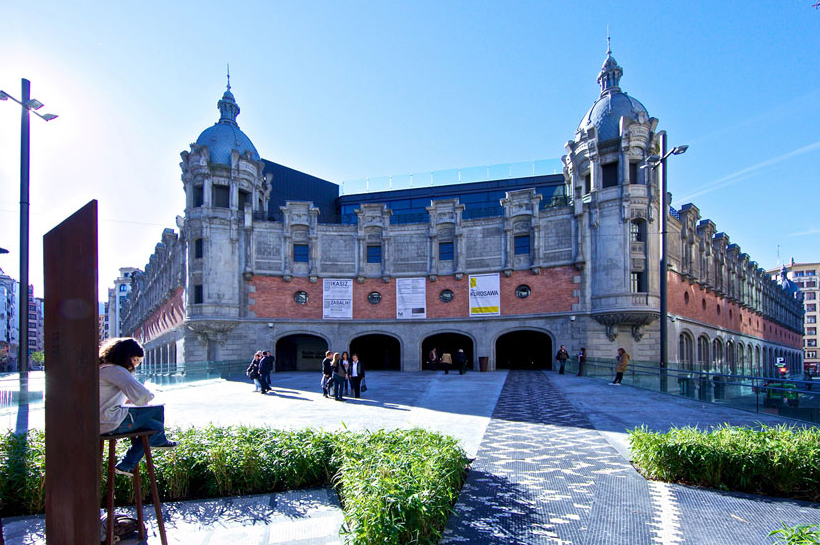 AlhóndigaBilbao. Fachada
Bilabao
Ver todas las imágenes